Local Groups
A list of groups where physically disabled people will be made welcome. If we have omitted your group please contact Forward Mid to rectify this omission.
---
Ageing Well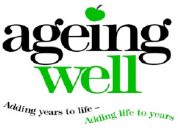 Are a Midlothian Council run group for over 50s.
Ageing Well offer a range of activities such as walking (the walks have been devised specifically for older people and are suitable for the beginner), 50+ Keep fit, Ageing Well in Water, Beginners Yoga, Dance and Sing for the Health of It, Health Walks for the 50+, Pilates, Seated Exercise, Seated Pilates/ Yoga, Tai Chi/Chi gong, Walking Football, Walking Gardeners, Ballroom Dancing, Line Dancing, Table Tennis, Badminton and New Age Curling.
There is something for everyone These activities are held throughout Midlothian and cost approximately £1
For more information Tel:
0131 561 6506
---
Beeslack Family Disabled Club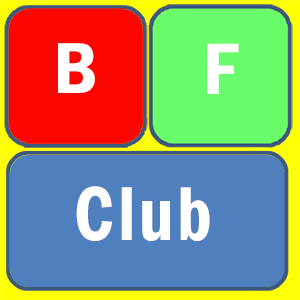 Providing a fully supported environment where everyone can participate equally and actively in any activity of their choice. Beeslack Disabled Club was established 1990.
Over the years we have expanded somewhat and currently we offer a variety of activities such as cookery, arts & crafts, woodwork, swimming, computers, music, TV, pool and coffee bar. We cater for all types of special needs, it doesn't matter the degree of ability. Everyone is treated equal and we provide a fully supported environment where everyone can actively participate in the family members and friends to come and join you.
Beeslack Community High School,
Edinburgh Road,
Penicuik
EH26 0QF
Tel:
01968 673893
---
The Breathe Easy Group
For people with chronic obstructive pulmonary disease (COPD).
A fully supported network by the British Lung Foundation. They support people with chest problems and instruct on methods to help ease the pain of breathing and breathlessness.
Contact George Worrell for more information Tel:
01875-823-323
Meet first Tuesday of every month at
MVA
4-6 White Hart Street,
Dalkeith
EH22 1AE
B r e a t h e E a s y
British Lung Foundation Supported Network
---
Café Connect
Café Connect, Dalkeith's vibrant community café run by Forward Mid (with generous support of Midlothian's LAC Group) gives people with disabilities a chance to meet up to talk and listen. We all have different things to bring and our own stories.
Café connect is a great place to find out useful information about a whole range of relevant supports and services eg
Welfare Reform, Access Issues, Self- Directed Support, or just turn up for a coffee, tea and cake on the house!
It's a friendly gathering where everyone is welcome. A place where you can listen in, or share your story!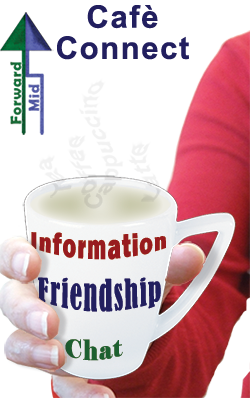 Where: Café Connect
Dalkeith Welfare hall,
St Andrew Street, (East side of Dalkeith Medical Practice),
Dalkeith
When: Last Tuesday of every month from 2 pm to 4 pm:
For more information Tel:
0131 663 9471
Café Connect Price list

Tea / Coffee Free, Biscuits Assorted Free, Information Invaluable
---
Easy Does It
Does a bit of relaxation, hand and arm massage, gentle Tai Chi and music that inspires sound good to you? It did to some people who were looking for just that type of thing and helped develop Easy Does It!
The Easy Does It! Group is an inclusive group that aims to help show how exercise and relaxation can improve physical and mental well being and gives people an opportunity to meet new faces. Some places might be available, so anyone who wants to find out more can contact Catherine at Local Area Co-ordination office Tel:
0131 454 1785.
---
Forth & Tay Ramblers
Forth & Tay Disabled Ramblers is a user-led charity, established in August 2001. Our membership is mainly based in the area bounded by the rivers Forth and Tay.
Forth & Tay Disabled Ramblers annual programme includes day rambles to country parks, forests, canal tow paths, seaside promenades, national heritage sites and gardens.
Forth & Tay Disabled Ramblers aims to promote health and wellbeing through recreational and social activities by enabling people with disabilities to access the outdoors in a barrier-free environment. Many new friendships have emerged since the group began and these extend beyond the ramble programme
There are opportunities for personal enrichment and the development of new skills for carers, members and for those wanting to be part of the management committee.
To join Forth & Tay Disabled Ramblers and take part in our rambles you can print out a membership form and post it to us along with the appropriate fee and we will reply as soon as possible.
Forth & Tay Disabled Ramblers,
Aileen Davis
1 John Knox Gardens
Glenrothes
Fife
KY7 6FJ
Tel:
01333 320 864.
www.forthandtaydisabledramblers.org.uk
---
Gorebridge Community Café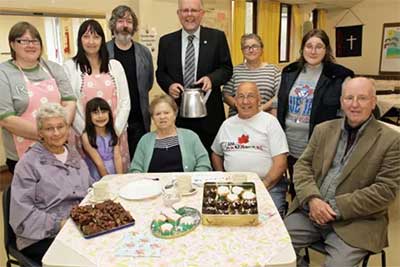 A welcoming place where people can again build the idea of real community spirit in Gorebridge". The café is staffed by local volunteers from Gorebridge, mostly from Mary's Over 50's forum, and welcomes all local residents. "We aim to be fully inclusive", said Mary, "welcoming young people, older people, mums and children, disabled people and those who may feel isolated at home. We even hope to get some residents along from the nearby Newbyres local care home....What a difference it makes for an older person, who doesn't have much going on in their week, for a bit of connection, a blether and sense of belonging over a cup of tea". There is a small charge to cover costs.
The cafe is open Fridays 10am till 12 noon. All welcome.
Gorebridge Parish Church Hall,
100 Hunterfield Road
Gorebridge
Midlothian
EH23 4TT
Mary Webb
Tel:
01875 820 094
---
Lothians Veterans' Centre
Lothians Veterans' Centre was officially opened on November 15th 2014 by Col. Martin Gibson, Chief Executive of Veterans' Scotland.
Our Origins
The charity was originally founded in July 2009 as The Mark Wright Project and was first located at Hardengreen Industrial Estate, Midlothian. The charity was designed to meet the need for a veterans drop-in centre with no appointment necessary allowing complex needs to be catered for in an environment which is familiar and friendly.
The LVC aims first and foremost, to create a welcoming & friendly environment, providing person-centred support for ex-service personnel and their families across Edinburgh and the Lothians.

The continuous reassessments of our service delivery, highlighted a desire for a location more accessible to the veterans' community, subsequently moving to the centre of Dalkeith in March 2013. This move has clearly proved popular as the numbers of Veterans' just "dropping in" for a chat has increased significantly.
Our Partnership Working has increased ten-folds as a result of relocating. Key agencies including; Dalkeith Job Centre, Midlothian Council, Dalkeith Citizens Advice Bureau all recognise the importance of the LVC to ex-service personnel and can easily signpost without any lengthy referral processes and all within a stones throwing distance of our centre.
Lothians Veterans' Centre
11 Eskdaill court
Dalkeith,
EH22 3NX
www.lothiansveteranscentre.org.uk/
Tel:
0131-660-5537
Email:

contact@lothiansveteranscentre.org.uk
---
Midlothian Peoples Equality Group (MPEG)
MPEG is a registered charity. We are a friendly group of local people who have experience of, and aim to learn about and challenge, different forms of discrimination related to age, disability, gender, sexuality, ethnicity and socio-economic background.
MPEG is directed by a steering group of local people representing diverse local interests including kinship carers, disabled people, young people, older people, people from ethnic minorities and people from Lesbian, Gay, Bisexual and Transgender communities.

Together We Aim To:
Promote equality and challenge prejudice;
Build relationships across Midlothian communities of interest where people feel valued and trusted;
Provide a platform for Midlothian people to:
Learn, educate, and communicate about local equality issues of concern and interest;
Have a voice in local policy and planning.
Meetings:
We meet on the first Thursday of the month in Fairfield House in Dalkeith, 4.30 – 6.00 pm
Website: www.midequalitygroup.co.uk/
Contact: Tel:
0131 270 5695 for further details
---
Thornton Rose Ride - Ability Group
Thornton Rose provides riding opportunities for people of all ages and disabilities to enjoy a safe, stimulating, therapeutic and recreational sport. The group was formed in 1984 under a previous name and established as Thornton Rose in 2004 when we relocated to Thornton Farm, Rosewell.
Thornton Rose Ride Ability Group
Thornton Farm,
Rosewell,
Midlothian EH24 9EF
Chairman: Jeff Allan
Email:

Jeff@thornton-rose-rda.org.uk
www.thornton-rose-rda.org.uk
---
Walkie Talkies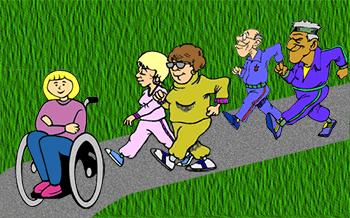 This group was formed to encourage people with disabilities, those who lived in isolation, those with mental health problems, and those who were bereaved to meet up once a week to go for a short walk and to chat to one another.
Many of our walks are wheelchair accessible which gives us all the chance to get together and have some fun. We walked along the shore at Crammond a some time ago. It was a lovely sunny day but there was a biting wind but didn't stop us biting into our sandwiches and enjoying ourselves.
The group has made a tremendous difference in lots of peoples lives by helping them to regain their confidence and do things the never thought in their wildest imagination that they would be able to do. Some have even been able to return to work.
One thing is for certain we have found lots of lovely places to walk in and of course some of the best placed to enjoy tea and coffee.
If you would like to come along and join us on some of the walks contact Local Area Co-ordination and they will put you in touch with the group. Tel:
0131-454-1785
---
Looking for something please use this function to Search Forward Mid website